Bac Ninh was hometown of Ly dynasty in Vietnamese history. There are many cultural heritage here. Besides Bac Ninh folk song, Dong Ho painting is considered the most famous traditional painting of Vietnam. To day, let's explore what is interesting in Dong Ho painting village- a cultural beauty of Viet Nam with iTravel88!
Quick reading index
Where is Dong Ho painting village?
Dong Ho painting village is located in Song Ho commune, Thuan Thanh district, Bac Ninh province. From Ha Noi, you go to national road 5, then turn left to Dang Xa, Gia Lam district. After that, driving approximately 20km more. It takes you 45-60 minutes to get there. So it's suitable for a picnic at the weekend.
A gift for Tet holiday
Dong Ho painting is a folk painting describing life of Vietnamese in the past. There are many themes such as: daily life, fable, decoration, history and so on. In the past, it's almost sold in Tet festival time.
This was because people often bought pictures then stick on the wall. At the end of year, they will remove painting and replace by new one. Therefore, within a long time, Dong Ho picture was indispensable things during Tet holiday.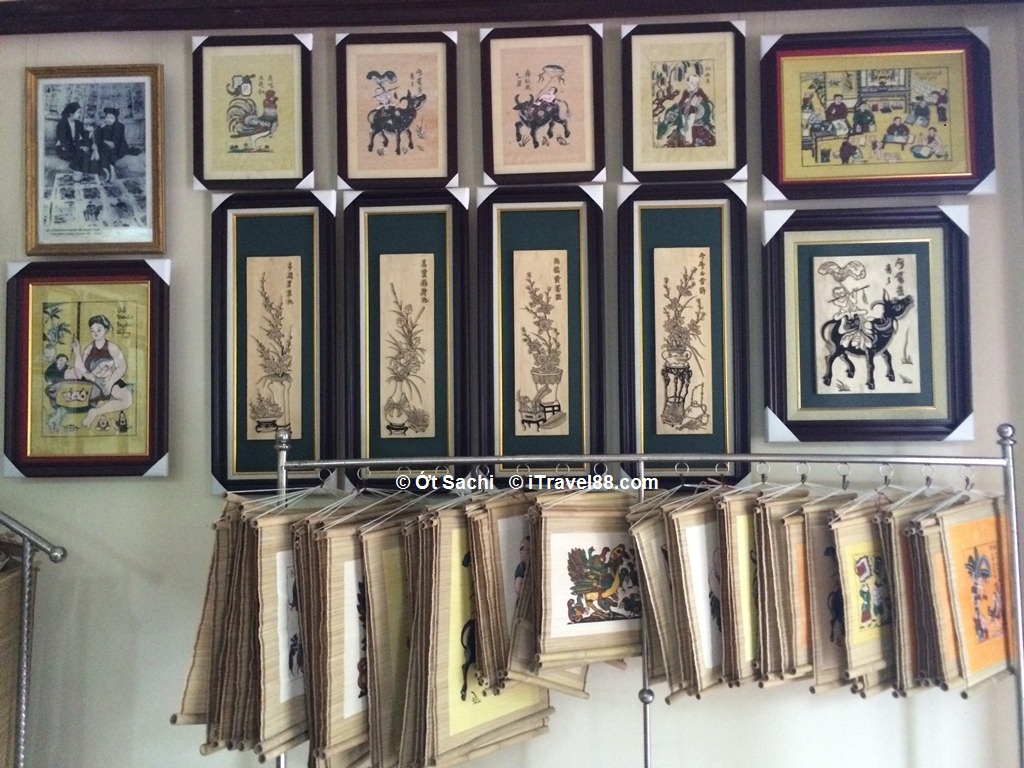 "National colors bright in Diep paper"
Besides spirital value, material used to make Dong Ho pictures also contributed to unique of the painting. This was described in poem " Beyond Duong river" of Hoang Cam poet: "National colors bright in Diep paper"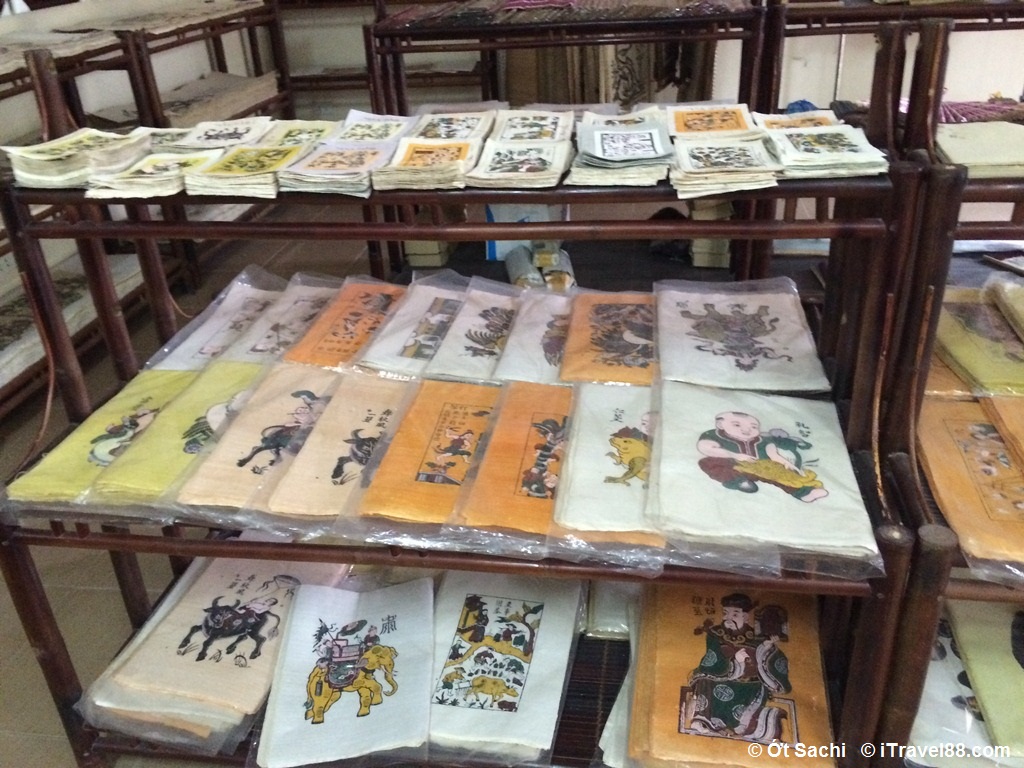 According to tradition, the painting was 100% made of natural materials. After knew that, I really admired the creation of our ancestor. Firstly, Diep poweder (made by grinding scallop shell) will be mixed with glue.
Then it will be swept on "Do paper" (made of Do trunk) in order to make Diep paper. Therefore paper surface is quite roughness to keep color. After that paper will be dried naturally under heat of the sun.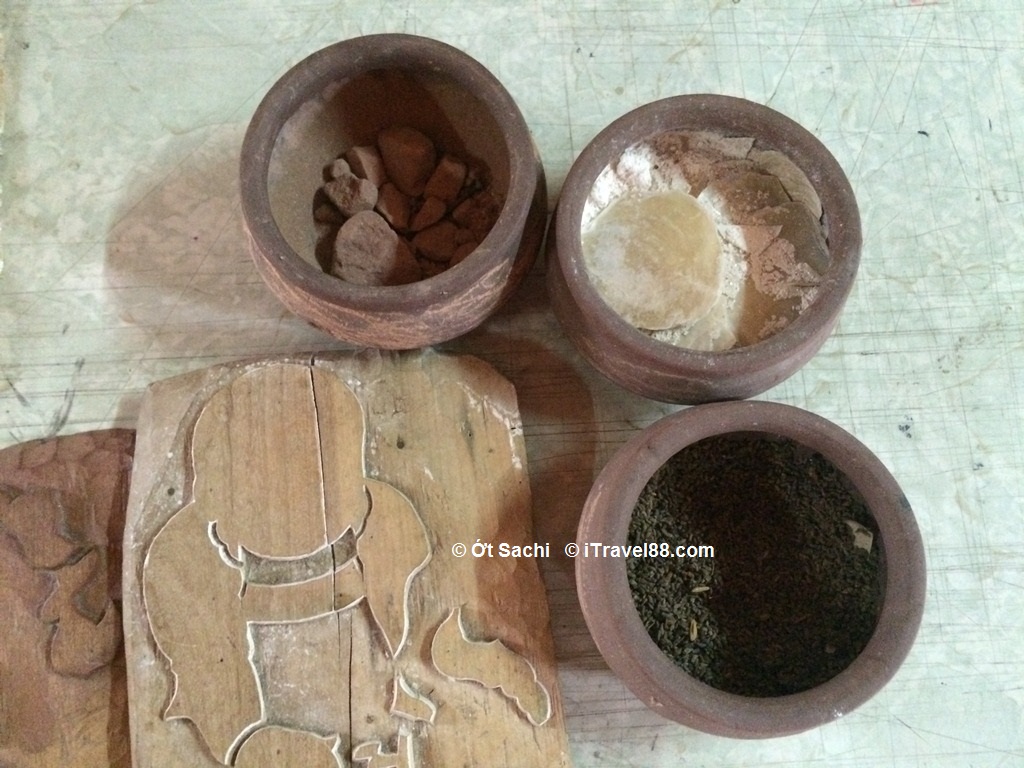 Colors are made from natural substanes that easy to find in daily life. Green is from rust of copper or cham leavies. Red is form brick or wine wood in Thien Thai mountain. Yellow is from Hoe flower. Black is from coal ash. White is from Diep powder.
Process of making a painting: photocopy technology in the past
It could say that Dong Ho painting village is one of the first cradle of photocopy work. It was shown through the way pictures were massively produced. To make large amount of pictures suppling to Tet market, old people used many painting boards.
Firstly, artist drew on wood, normally it was Thi wood. Then they chiselled to keep main part of paiting. The special thing is that the number of painting board is equal to number of used color. It means each board will be used for only one color. For example, picture "the child with goose" above will use 4 board corresponding 4 colors.
The painters will paint a color massively. After the color was dry, they will continue to paint second one. By doing this, many people can take part in this process. Although technology was primitive, colors were combined accuratedly. It proved the high level of aritsts.
Dong Ho village nowaday
Nowaday, the habit of buying Dong Ho pictures in Tet holiday is disapperred. Therefore, people here have found another job to ensure their life. There are only few artists continuing their ancestor work.
Besides traditional pictures, painters also create new pictures to suitable with modern life such as "Dau pagoda" of Nguyen Thi Oanh (daughter-in-law of Nguyen Huu Sam artist)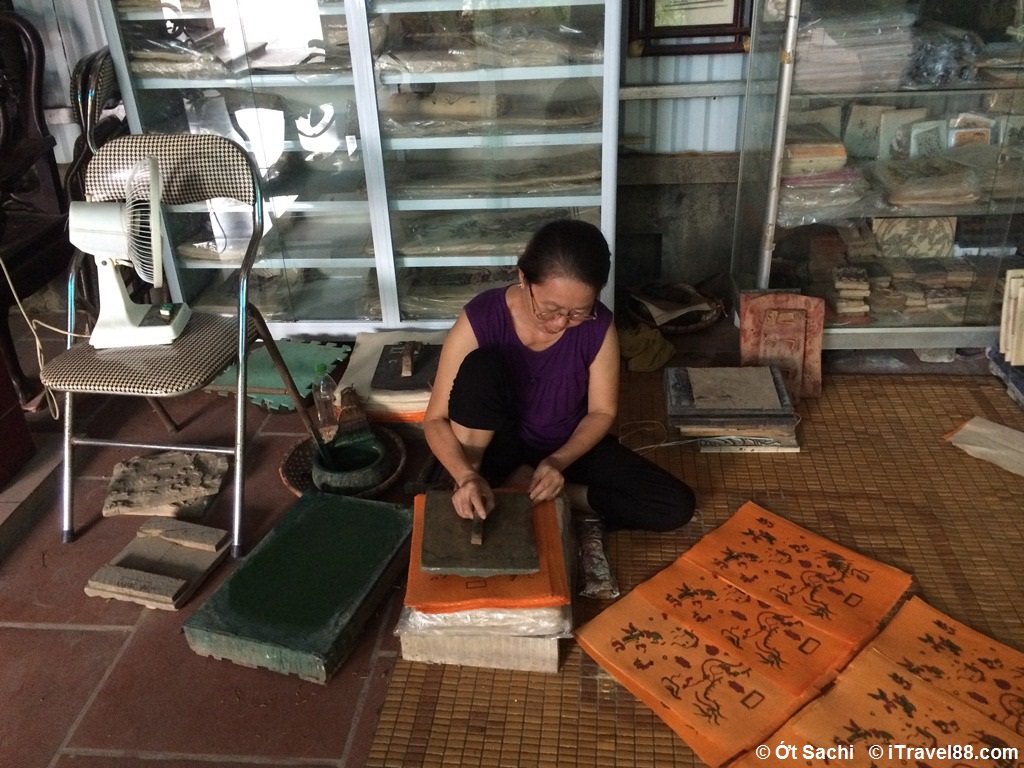 How to understand more about Dong Ho pictures?
During the explosion of ecommerce, it's easy to buy a Dong Ho picture in the internet by a click. However, to understand more about this pictuers, the best way is to meet artist directly.
You can visit c. It coud say that here looks like a small museum of Dong Ho painting. In addition, you should visit Nguyen Thi Oanh artist's house in Song Ho commune. From Duong dyke you can see the banner show the way to her home.
In case couldn't go to Bac Ninh, you can go to Vietnam museum of ethnology in Nguyen Van Huyen street, Cau Giay district. There is an exhibition space of Dong Ho painting here.
Other tourism places in Bac Ninh
There are many attractive places in Bac Ninh near to Dong Ho painting village. They are Kinh Duong Vuong mausoleum, But Thap pagoda, Dau pagoda, Luy Lau old citadel (where was the first place that buddhism disseminated into Viet Nam) and so on
When Phat Tich – Dai Dong Thanh bridge project finishs in the fututre, it will connect Dong Ho village with other famous places in Bac Ninh such as Phat Tich pagoda, Lim festival (where Bac Ninh Folk song is held), Do temple (where worship 8 kings of Ly dynasty),…
This is alll answer for the question "what is interesting in Dong Ho painting village?" by iTravel88. Please let us know your impresion about this places in the comment box. And don't for get to like and share this post to spread this useful information.
If you find this post interesting, please support me to maintain Blog's operation by giving me a coffee! Thank you!
The same topic: Top 10 best places to visit in Ha Noi
Top view in Blog: My road to become a travel blogger form a low tech girl
#day11 #21ngaysangtaonoidung