Phu Yen (Phú Yên) is a coastal province in South Central Coast of Viet Nam. Although it's still in controversy, people believe that the eastern point of Vietnam's mainland locates Phu Yen. As travelling to Phu Yen, you'll be surprised at beautiful beaches, blue sky, old light house. Especially, you'll have chance to enjoy delicious seafood. Today, let's explore Top 10 attractions in Phu Yen!
Before starting our journey, I want to notice that attractions in Phu Yen will locate in 2 directions of Tuy Hoa city. One direction is to the south while the other one is to the north. In this post I'll arrange destinations in geographic order. As a result, it's help you easy to make schedule.
Noww, Let's begin to visit 10 attractions in Phu Yen!
1. Nhan Temple (Thap Nhan)
In the past, South Central Coast of Viet Nam belonged to Champa Kingdom. Later on this empire became weak before being a part of Vietnam under Nguyen dynasty. Nowadays, many temples of Champa kingdom are still well-conserved in my country. Nhan temple is one of remaining temples of Champa's civilization.
The temple locates in peak of Nhan moutain. Therefore, it's easy to recognize as you go to Tuy Hoa city from airport. It was built in XI century. In other word, it is more than 1000 years old until now. You may immagine how ancient it was!
The temple was constructed by brick made by local people. It was 23,5m high with 3 main parts including base, body and roof. There was Linga symbol on the top. It can say that the temple is typical example for Champa's civilization. Many tourists visit Nhan temple every year, especially who're interested in discovering heritage of Central Viet Nam. So, please take time to come here as you arrive to Phu Yen
2. Mon Beach (Bãi Môn)
Bai Mon is one of the most beautiful beaches in Phu Yen. It's about 32km to the south of Tuy Hoa city. It's a small beach compared to other one. However, this place is quite special. This is because it locates between two mountains making it look like a bow as you see from Deo Ca pass.
Interestingly, Bai Mon hasn't been developed for tourism. As a result, it still keeps natural beauty. The beach is famous for beautiful white sandbank, turquoise sea, white wave. In addition, it's an ideal place to see sunrise in Phu Yen. Thus, please come here to enjoy the first awesome moment of the day.
3. Mui Dien or Dai Lanh Cape
Many people believe that Mui Dien or Dai Lanh cape is the first place to welcome sunrise in Vietnam's mainland. Unfortunately, scientist proved that the first place is in Khanh Hoa province. Amazingly, the time is only 4 second sooner. Therefore, people still consider unofficially Dai Lanh the eastern point of Vietnam's mainland.
As you go to Mui Dien, don't forget to climb up Dai Lanh lighthouse. The house was built in XIX century and still worked until now. It is 110m high with ability to transmit signals up to 27 nautical miles. From the top of the house, you'll feel the wonder of the sea.
Similar to Bai Mon, the best time to visit Mui Dien is sunrise moment. So, let's come here to take best pictues by yourself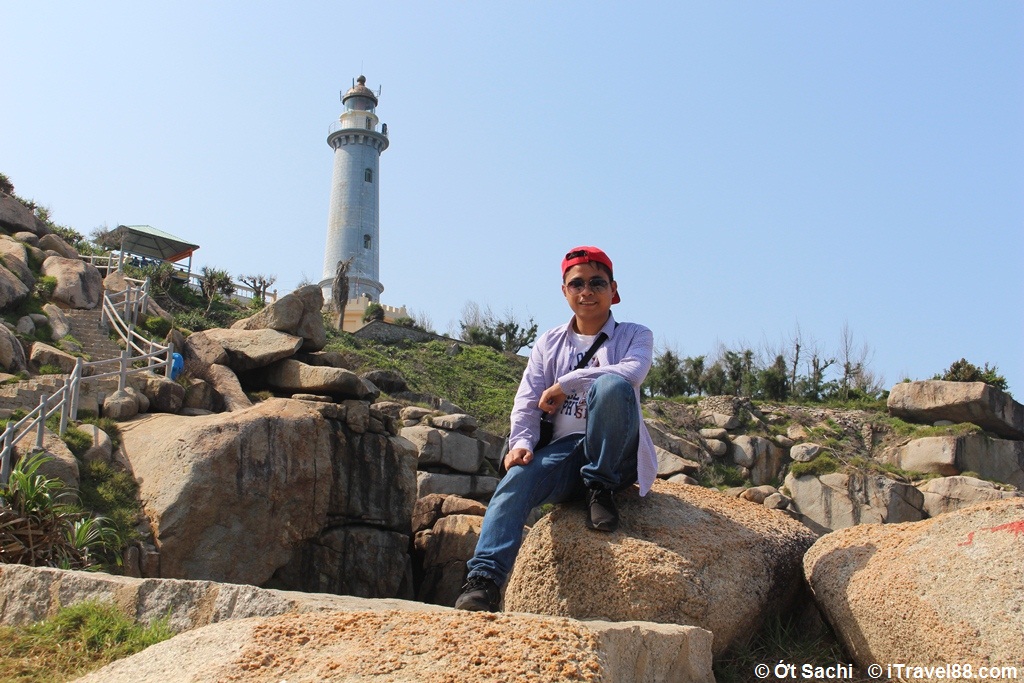 4. Vung Ro Bay
Continuing to travel to Deo Ca pass, you'll see Vung Ro Bay. This beautiful Bay is one the popular choice of tourists. You'll find it amazing as the Bay is surrounded by 3 majestic mountains including Deo Ca, Da Bia and Hon Ba. Thank to this special geographic condition, the Bay is protected from storms coming from East Sea. Therefore, it becomes a safety place for ships.
In addition, local people take this advantages to grow seafood. As coming here, you'll have chance to enjoy fresh seafood such as lobster, crab, oysters, fish,… with reasonable price. It's an ideal place to have lunch. So, let's go there to enjoy your time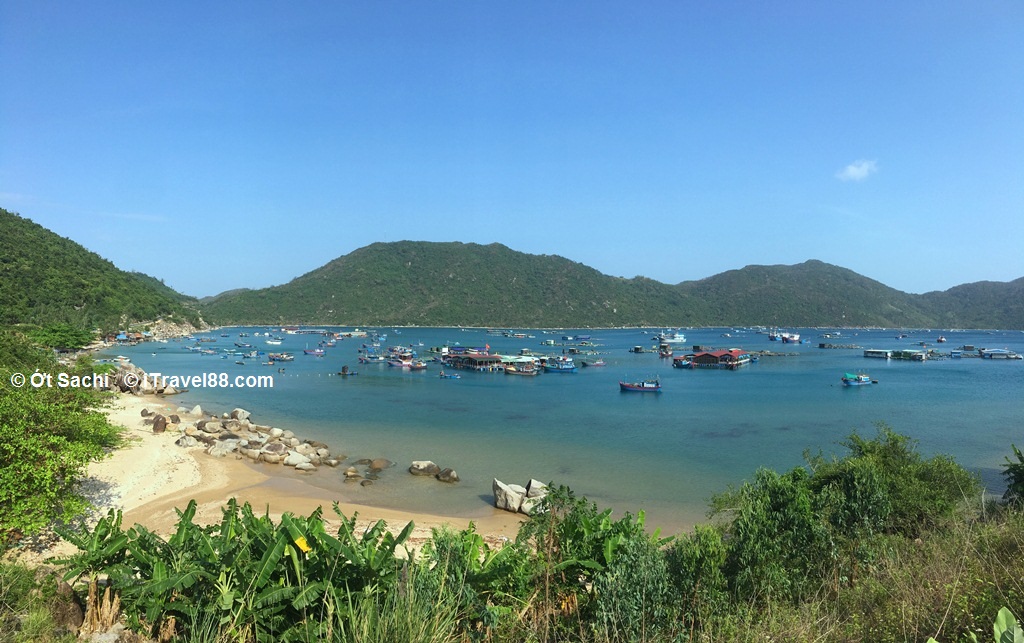 5. Numberless ship relics
During the war, Vung Ro Bay was an important transshipment point of famous Ho Chi Minh on the sea road. The numberless ship transported weapons from north of Viet Nam to battlefield in Highlands. Unfortunately, it was detected by enemy in 15/02/1965 early morning. Therefore, Vietnamese army decided to sink the ship in order to prevent the enemy got weapons in the ship.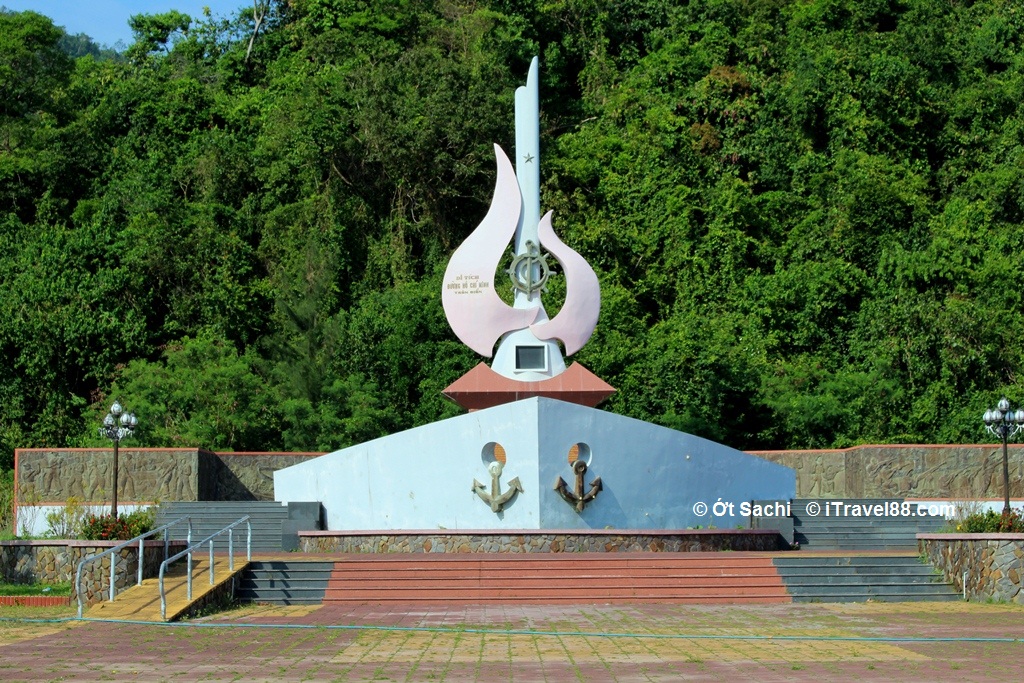 With this historical meaning, Vung Ro bay was recognized national relic. There is a model of numberless ship in campus of this historical sites. You'll see valuable pictures, documents inside traditional house. There is a small coastal road outside leading to position of the sank ship.
Thus, as you come to Phu Yen, let's come here to understand more Vietnamese history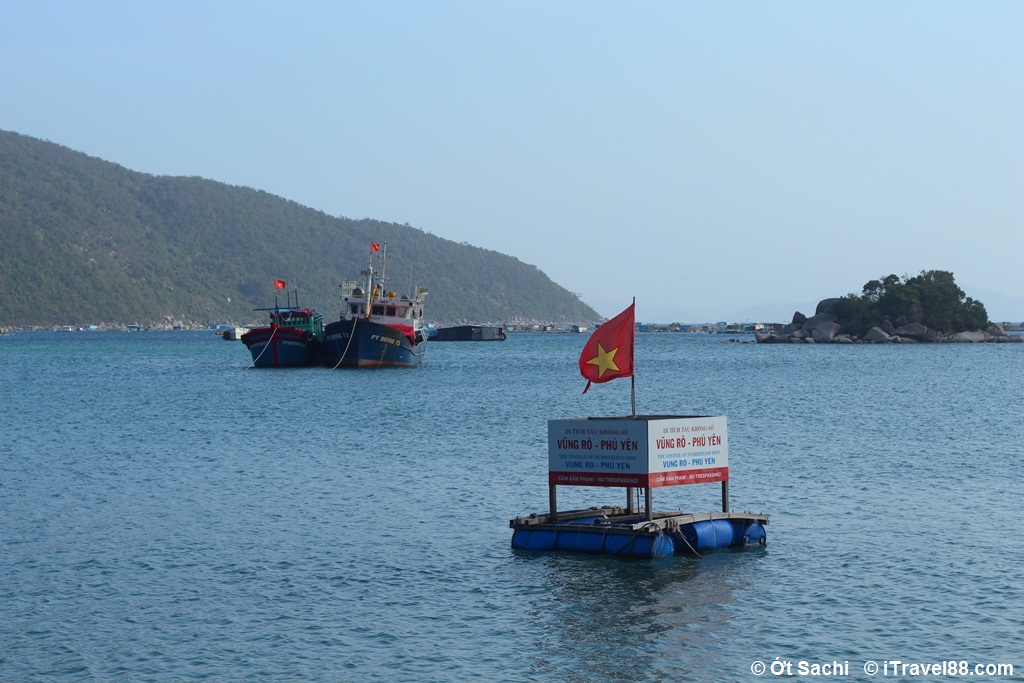 6. Bai Xep – Ganh Ong
Bai Xep -Ganh Ong locate in An Tran commune, Tuy An district where is 15km to the north of Tuy Hoa city. Similar to Bai Mon, Bai Xep is also famous for its natural beauty. People consider Bai Xep a sleeping charming girl. You must be crazy about landscape here. Beside white sandbank, turquoise sea, you'll find it awesome with appealing hill that attract many tourists.
In 2015, Victor Vu director chose this place the studio for movie "I found yellow flower on green grass" . The movie was successful and beloved by Vietnamese audiences. As a result, Bai Xep – Ganh Ong became much more famous. It has been the most visited place in Phu Yen since 2015.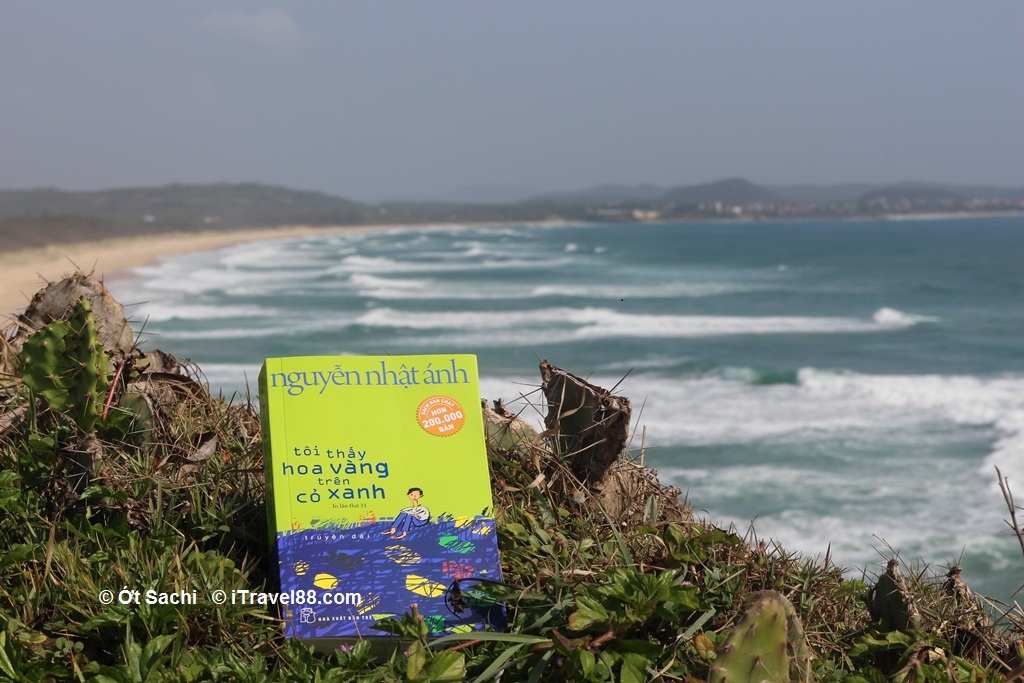 7. Ô Loan lagoon (Đầm Ô Loan)
There is an interesting legend referring the name of the lagoon. Once upon a time, there was a charming, naughty fairy name Loan. One day, she brought Ô Thước bird to travel to beautiful landscape on Earth. As they flight to Tuy An district, the bird was so exhausted that he couldn't able to fly anymore. Then, he landed this area that made he and Ms Loan become a large lagoon. After that, local people call the lagoon "Ô Loan" as combination of the fairy's name and the bird.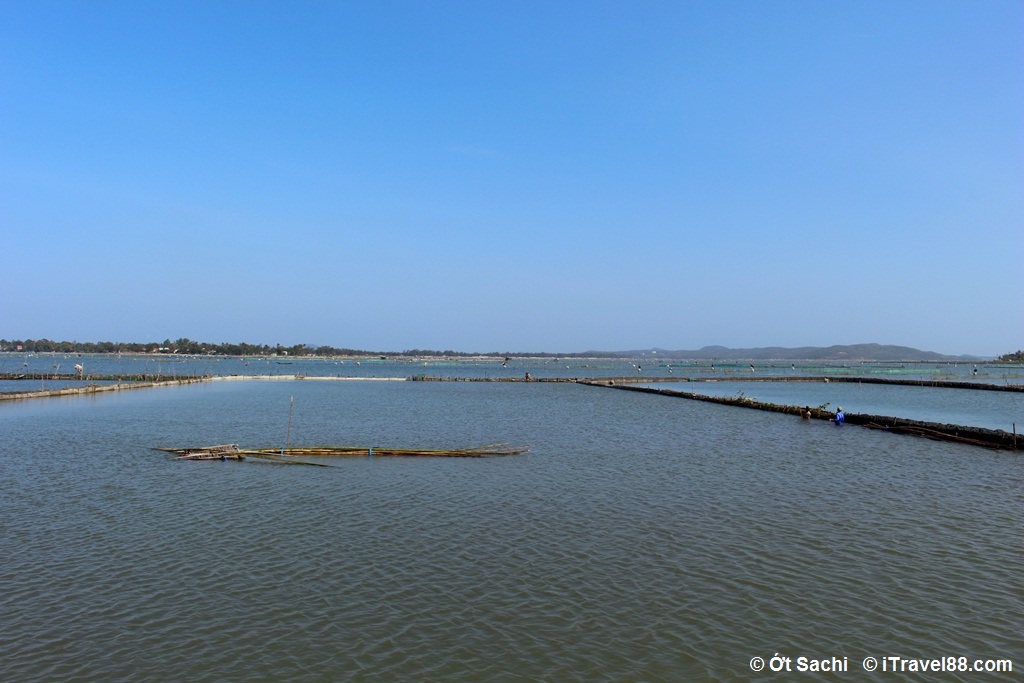 Nowadays, Ô Loan lagoon is an attraction that you mustn't be miss in Phu Yen. It's a favourite place of many photographer. The scenery here is ideal to take sunrise and sunset pictures.
Moreover, this place has good condition to grow seafood. The quality is also as good as seafood in other beaches. Hence, please take time to come here to enjoy tasty seafood such as oysters, king crab, and so on
8. Rocket plates reef (Ganh đa đia)
Rocket plates reef (Ganh đa đia) is the most unique sightseeing in Phu Yen. It consists of many mystery black hexagonal stones. They look like huge plates standing side by side. That is reason why local people call it Ganh da dia (dia means plates in Vietnamese)
According to research of geologists, these stone was lava of Hoa Van volcano. As the hot lava met cold sea water, it was frozen. Then, under complex geology operation, the lava became rocket plates reef as we know. Fascinatingly, there are only 3 other stone plates in the world that locate in Giant's Causeway beach (North Ireland), Los Organos island (Spain) and Fingal cave (Scotland).
Therefore, please arrange to visit such special attractions in Phu Yen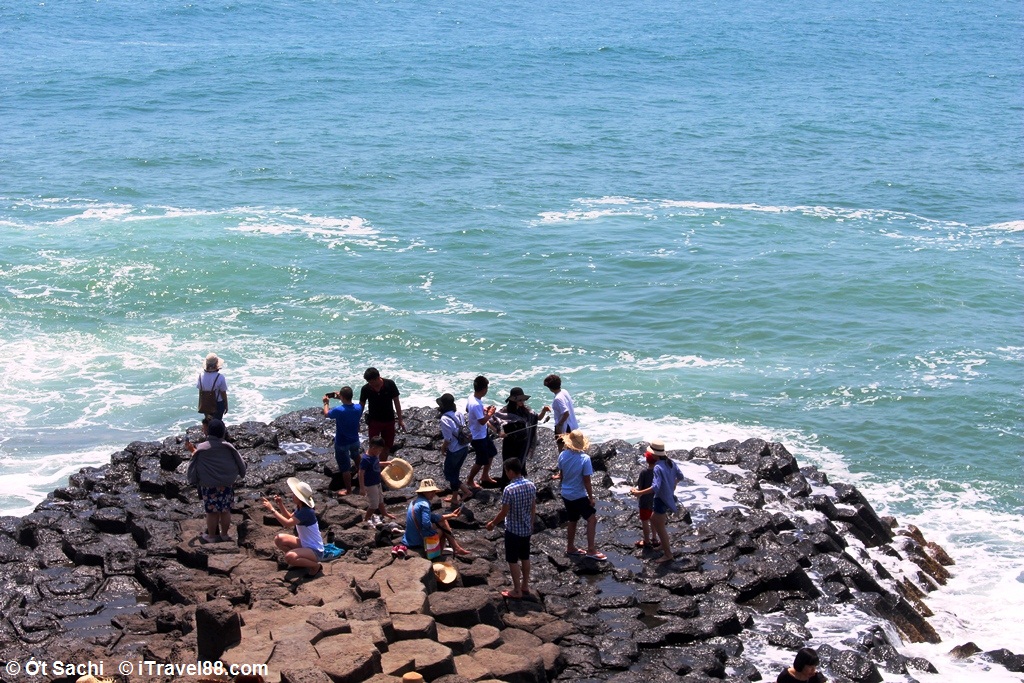 9. Ganh đen lighthouse (Gành đèn)
Another unique lighthouse in Phu Yen! The lighthouse is only 1km from Ganh da dia. However, the road is quite narrow and difficult to move. Thus, the best way to come here is to ride motorbike.
You may find the scenery here similar to some film of Hollywood. It's an ideal place for people fond of exploring. You will see a wild beach with big stones, strong wave and turquoise sea water. At the end of the road is lonely lighthouse with white and red painting making it outstanding in blue sky.
While Dai Lanh lighthouse is best place to see sunrise, Ganh den is the best place to see sunset. Unde final light of the day, stones on the beach will change to pink color that makes a wonderful scenery. Thus, let's come here to find out the miracles yourself.
10. Ô Cọp wooden bridge
The final destination is Ô Cọp bridge – the longest wooden bridge in Viet Nam. This bridge connects Tuy An district and Song Cau town. So, it plays an important role in daily life of local people.
You can feel that bridge is quite simple. It's made of wood and bamboo leading to only motorbike and bicycle are allowed to go through. Until now, some position on bridge's surface is degraded. As a result, you'll find it nervous to ride through the bridge. So, don't forget to go there to experience on your own.
This is Top 10 attractions in Phu Yen collected by iTravel88. Please let us know your impressive places in the comment box or via my fanpage. If you feel the post useful, please LIKE & SHARE this post to spread this useful information. And don't forget to come back my blog to see amazing
If you find this post interesting, please support me to maintain blog's operation by giving me a coffee! Thank you!
Don't miss: Top 10 best place to visit in Ha Noi HERE
You also like: Top 10 attraction in Da Nang HERE
#day16 #day10 #21contentcreativedays #21CTD3